The Catalog is a list of uploaded ships. In the catalog you can buy Blueprints of ships or upload a new blueprint with the 'upload new entry', if you have a spaceship on singleplayer you want to share, You can click the 'upload from local button and type in the name of your singleplayer blueprint. Afterwards, the blueprints you save will appear in your 'personal' tab. To see other peoples Blueprints and buy them, you go to the 'Available' tab.
You can also configure the settings of your entry by clicking its name and changing the 'permissions', which lets you congigure who can buy your  blueprint, you can also delete it, or you can buy the ship if you have the money. The cost of a ship depends on the cost of all the blocks used to make the ship.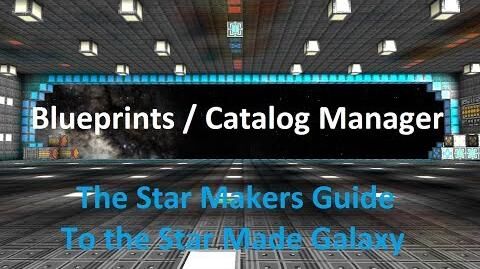 Ad blocker interference detected!
Wikia is a free-to-use site that makes money from advertising. We have a modified experience for viewers using ad blockers

Wikia is not accessible if you've made further modifications. Remove the custom ad blocker rule(s) and the page will load as expected.