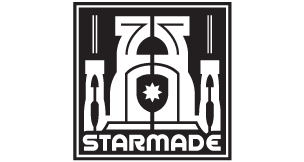 | Gameplay | Guides | Administration | Development |
| --- | --- | --- | --- |
| | | | |
Welcome to the StarMade Wiki. StarMade is an open-universe space simulation sandbox game inspired by Minecraft and created by Schema. Explore space generated in real time around you. Design your own ship, space station, weapons, harvesting elements, shields and docking stations. Save, import & export your designs as blueprints, then upload them to any multiplayer server. Gameplay is limited only by your imagination.
Ad blocker interference detected!
Wikia is a free-to-use site that makes money from advertising. We have a modified experience for viewers using ad blockers

Wikia is not accessible if you've made further modifications. Remove the custom ad blocker rule(s) and the page will load as expected.